Rolls-Royce's Marble Hall in Derby to be converted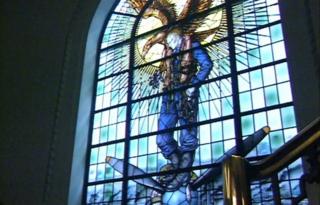 Work is due to start on a former Rolls-Royce building that has been empty for seven years.
Marble Hall, in the Osmaston area of Derby, is one of the city's most recognised landmarks but has been empty since the company moved in 2007.
The surrounding factories were demolished but the grade II listed building is now set to become a community meeting place.
The £4m regeneration will create meeting rooms, a nursery and café.
The former office block, built in 1912, gained listed status in 2009.
The development of the Marble Hall should be completed by 2015 and will be the focal point of a housing development built on surrounding land over the next 10 years.
Derby City Councillor Martin Rawson, said: "We can now make much needed changes to a fabulous building, part of our heritage that will benefit residents and businesses for years to come."
Rolls-Royce in Derby
Rolls-Royce moved to Nightingale Road in Derby in 1907 where it built the Silver Ghost car, dubbed "the greatest car in the world"
The Marble Hall building was constructed as offices in 1912, with the hall itself converted in the 1930s
The site was camouflaged during World War Two to protect the manufacture of Merlin engines, which powered Spitfires, Lancaster bombers and Mustangs
Rolls-Royce moved from the site in 2007 to other areas of Derby and remains a huge employer