Alfreton tornado rips off roof and damages cars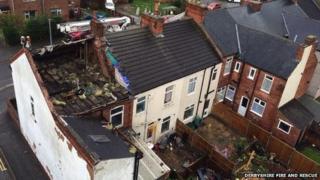 A roof of a home has been ripped off and vehicles damaged after a tornado struck in a town.
Cars were turned over at the junction of Catherine Street and Mansfield Road in Alfreton, Derbyshire, on Wednesday afternoon.
The Met Office confirmed it was a tornado, caused by volatile and unstable air.
Derbyshire Fire and Rescue has been helping people whose properties were worst hit.
A Met Office spokesman said: "Although tornadic activity is by no means common across the UK, it does occur on occasions when the atmosphere is suitably volatile."
Witnesses said they saw a tornado ripping down lampposts and trees. It happened at 15:30 BST.
Ross Wild, who runs a business in the area, said: "All of a sudden we heard this tremendous storm heading our way.
"We rushed to the window and there were bricks flying in circles and bits of stone...the tornado just ripped through rapidly."
Another man told BBC Radio Derby: "A really strong wind came down here like a mini-tornado [and it] has taken off the roofs and even turned a car upside down...
"I can see half a dozen houses that are damaged."
No-one was injured during the tornado.