Kadeem Blackwood murder: Michael-Paul Hamblett-Sewell 'has lost six years'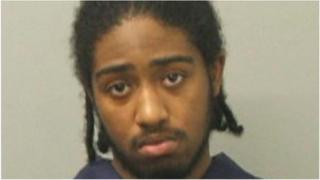 An "innocent man" has lost six years of his life after being accused of murdering a 15-year-old boy, his barrister has claimed.
Michael-Paul Hamblett-Sewell, 25, is on trial for a third time over the shooting of Kadeem Blackwood in Derby in November 2008.
His friend Callum Campbell has admitted pulling the trigger of the gun.
The prosecution claim Mr Hamblett-Sewell knew his friend had a gun and that he intended to shoot the boy.
But Alan Kent, defending, said the "theory" the prosecution had put forward was no more than that.
"The prosecution have tried to lump him in because he's a gang member," said Mr Kent.
"A young man, then 19, has been in prison since he was arrested on 12 November 2008, and is standing trial for a third time now for this murder."
'Split-second decision'
Kadeem Blackwood was shot in Caxton Park on the evening of 11 November 2008.
He belonged to a gang called the Browning Circle Terrorists (BCT), while Campbell and Mr Hamblett-Sewell were in the A1 Crew.
Campbell and Kadeem were due to have a "one-on-one fight" while members of the rival gangs watched, the trial heard.
Despite being only 15, Kadeem was strong and muscular, weighing 17st (108kg).
The prosecution claimed Mr Hamblett-Sewell had "beef" with Kadeem but assigned the fight to Campbell as he did not want to lose to a 15-year-old.
The trial heard Kadeem pulled out a knife with a blade about 1ft (30cm) long.
Campbell, who was 18 but weighed only 10st (63kg), then shot the boy with a sawn-off shotgun after making what the defence described as a "split-second decision".
'State of shock'
"Immediately after the fatal shot was fired this defendant [Mr Hamblett-Sewell] stood there," said Mr Kent.
"He stood there in a state of shock. He stood there surprised that it had happened."
Witnesses said Kadeem started to run but then fell to the ground.
A BCT member said Mr Hamblett-Sewell then asked: "What's your boy doing on the ground?"
Mr Kent said this immediate reaction and his surprise was "crucial" to the defence case.
The case continues.