Derby students return to halls after chemical explosion fears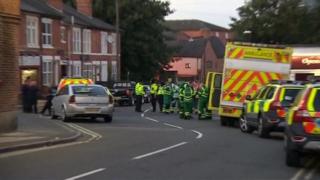 Hundreds of students and people living in three Derby streets that were evacuated have been allowed home after a potentially explosive chemical mix was made safe.
The area around Nuns Street was sealed off, on Monday evening, after a nearby business reported a problem with a chemical mixture.
Properties were evacuated as a precaution and the bomb squad called.
The firm, Nuns Street Plating, apologised to the residents affected.
The University of Derby's Nunnery Court halls of residence was evacuated at about 17:30 BST along with properties in Mill Street, Bridge Street and Nuns Street.
Residents were sent to rest centres and allowed to return to their homes at 02:00 on Tuesday.
Paul Cocker from the family-run business, said the reaction was caused after a worker had used the wrong ratios to mix sulphuric acid, nitric acid and a soaping agent.
He said the emergency services had been called as a precaution and to help correctly dispose of the chemicals.
"We were mixing chemicals to strip chromium and when we put the three chemicals together it reacted," he said.
"It wasn't dangerous or explosive but to be on the safe side we had to call the fire brigade. We just followed the protocol.
"Everything was under control before the fire brigade arrived but they evacuated the homes just to be safe."
Mr Cocker apologised to the people who were moved from their homes.
He said: "All I can do is apologise.
"It was very scary when you see all the fire engines, bomb squad and people talking about explosives but we had to be safe."
Derbyshire Police said officers remained at the scene and an investigation is now underway with the Health and Safety Executive.