Company fined after man has severed thumb replaced with big toe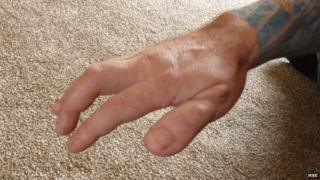 A firm's owner has been fined after an accident which left a worker needing his thumb replaced with one of his big toes.
Mark Evans had his right thumb severed while working at CNC Rotary in Staveley, Derbyshire, on 17 June 2013.
The 45-year-old was unable to work for a year despite the substitute thumb.
Manager David Helley, 56, from Tuxford, Nottinghamshire was fined £6,000 and ordered to pay costs of £1,514 after admitting a safety breach.
'Painful, life-changing injury'
Health and Safety Executive (HSE) inspector Steve Shaw said: "As a result of not having safe working conditions in place, Mr Evans suffered a painful, life-changing injury that could have been prevented."
Mr Evans, from Chesterfield, was rebuilding a rotary table device when the accident happened.
Chesterfield Magistrates' Court heard he was working on the tool when it came loose from a sling attaching it to the prongs of a forklift truck being used to lift it.
His thumb became trapped and was completely severed.
Mr Evans also suffered further tendon damage to his hand and was given a skin graft to cover the damaged area.
The court heard he experienced debilitating complications and was unable to work for a year.
An investigation by the HSE found the firm had no lifting attachment to secure the sling to the forklift truck, and the sling and eyebolts had not been examined.