Matlock child safety staff work together in pilot project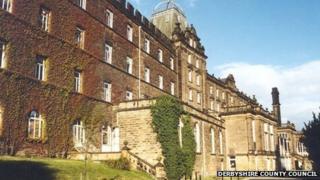 A project which will see changes in the way social services deals with children at risk in Derbyshire has begun.
Social workers, police officers and NHS staff will sit side-by-side in an office in Matlock to provide a single "point of focus" for children at risk.
Ian Johnson, from Derbyshire County Council, said decisions about a child's care would be able to be made more quickly, with everyone in one place.
If successful, the project could be rolled out across the county next year.
"They will all be working together in teams, sharing information where appropriate, to make sure all known information is shared across agencies, at the right time," said Mr Johnson.
"They will be able to make quick decisions, using more information that they have at their finger tips."
What difference will it make?
Chris Doidge, Political Reporter, BBC Radio Derby
Derbyshire County Council comes into contact with 24,000 children a year and while the majority are well looked after, the authority wants to respond more quickly to those who are not.
Face-to-face decision making, combined with significantly longer opening hours, should make social services more accessible.
And longer term, the council wants to work with hoteliers and taxi drivers: people who could identify children escaping abuse or neglect.
The changes were planned long before problems were highlighted in Rotherham but the council says it is reading the report into that authority's failings very closely, to see if any lessons can be learned.
The office will be open longer than the current standard working day, from 07:00 to 19:00.
Alan Charles, Derbyshire's police and crime commissioner, said: "Key professions in child safety will be working side-by-side.
"Whereas previously you may have had to wait, people can have a decision quickly and professionally with people working together and with key decision makers right there."
It is hoped an announcement about the future of the project will be made at the end of the month.