Peak District hen harriers breed for first time in eight years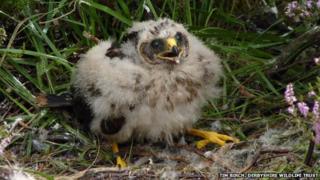 England's most threatened bird has bred successfully in the Peak District for the first time in eight years.
Five hen harrier chicks have fledged in the Upper Derwent Valley in Derbyshire, the National Trust has said.
The raptors, which prey on grouse, have faced extinction in England because of illegal shooting and trapping.
Four pairs have nested in England so far this year - an improvement on 2013, the first year no hen harriers had nested since the 1960s.
From late April, a male and female were seen "sky-dancing" - their aerobatic mating routine - but then left the area.
But in early August, a nest containing five healthy chicks was discovered by Geoff Eyre, a local National Trust shooting tenant, who alerted the Peak District Birds of Prey Initiative - set up to secure the future of the national park's raptors.
Tim Birch from Derbyshire Wildlife Trust was part of a nest watch team, which monitored the hen harriers and their young.
He said the five chicks have been ringed and satellite tags have been applied.
"The future of these birds is still uncertain as they wander widely over the moors. The satellite tagging will enable us to follow their journeys over the coming months and hopefully we will see these birds back in 2015," he said.
National Trust general manager for the Peak District, Jon Stewart, said it was "wonderful news" but its vision to restore the birds of prey could only continue by working closely with tenants, partners and the grouse-shooting community.
"This success is the first step towards a sustainable future for these magnificent birds - a future that can only be achieved by everyone continuing to work together, both here and across the English uplands," he said.
Nine chicks have fledged this year from two nests in Bowland, Lancashire - the birds' traditional stronghold.