Derby restaurants to assess own hygiene because of cuts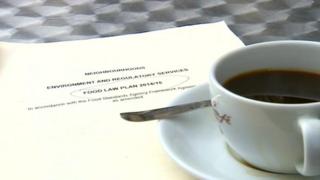 Some restaurants and takeaways in Derby are being allowed to self-certify that they have made improvements following food hygiene checks.
The city council blamed cuts to its inspection team and said it was concentrating on medium to high risk premises.
It said it expected to visit 78% of the 1,280 food outlets due for a check this year,
However, about 280 food outlets will be allowed to assess themselves.
The authority said it had taken the action as a result of government cuts.
Deputy leader of the city council Martin Rawson said: "We are achieving 100% of high and medium risk establishments to make sure the risk to the public is absolutely minimised."
However, Tom Govan, from Jack Rabbit's Cafe, said all restaurants, particularly in the city centre, should be checked.
He said it would help to maintain Derby's good reputation for food.
The Food Standards Agency said for very low risk businesses local authorities were able to use alternative ways of assessing compliance with food hygiene rules, including self-assessment questionnaires.
But the hygiene rating itself can only be done through an inspection by the local authority, it added.