Derbyshire mother faces £7,000 phone bill for son's gaming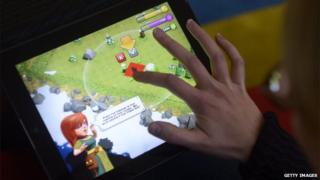 The mother of a 12-year-old boy is facing a £7,000 bill after he inadvertently spent the money playing a popular online game on his phone.
Theresa Cox said she and her son James were not given any warning about the charges of up to £240 a day.
T-Mobile said Supercell, the developer of Clash of Clans, was responsible for setting the charges.
Ms Cox, of Breaston, Derbyshire, said she might have to sell her car to pay the debt.
'Slightly over-enthusiastic'
"The only way I have financially of raising that money is selling my car and I need my car to get to work," Mrs Cox said.
"I naively thought the industry was better regulated than this - that there were safeguards in place.
"Nobody at any point alerted me to the situation."
James played the Clash of Clans game and inadvertently paid extra charges that are used to progress in the game.
"He bought two add-ons totalling £5.98 for the game Clash of Clans and the phone has kept buying (add-ons) at a rate of £240 per day," she said.
James told BBC Radio Derby: "I was confused to what had happened - I didn't have a clue."
His mother said she did not blame her son, but added: "He was slightly over-enthusiastic when playing on his phone."
Alistair Charlton, a games expert with Mobile Choice website, said: "For each payment made there would have been an email receipt sent to the person whose Google account is registered on the phone.
"Before you download the game it says there are in-app purchases and each time you make one you have to approve it."
Mrs Cox said: "Mobile firms need to review procedures... and forget making a profit from vulnerable people."
T-Mobile said it has placed Mrs Cox's bill on hold to allow to her resolve the issue with the game provider.
Supercell refused to comment on individual complaints, but advised its users to read the parent's policy on the firm's website.