William Allitt School teacher Christopher Mallinson banned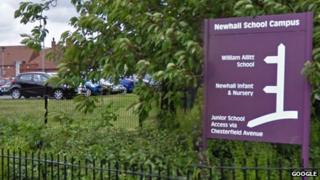 A former assistant head teacher who kissed and hugged a pupil has been banned from teaching.
Christopher Mallinson, 57, was sacked from William Allitt School, Swadlincote, Derbyshire, after admitting the pupil "loves me to bits and I love her to bits".
A conduct panel banned him from working with children for at least two years.
Mr Mallinson, who has 28 days to appeal the decision, was head of performing arts at the specialist arts college.
A National College for Teaching and Leadership (NCTL) panel heard the teacher engaged in an inappropriate relationship with a Year 10 girl.
'Special eye'
He gave her a lift in his car on her own, kissed her on the forehead, hugged her and sat with her with his legs over hers.
At one point he took her out of another lesson so he could keep a "special eye" on her and during the holidays organised a one-on-one rehearsal.
On a separate occasion he held scissors close to another Year 10 girl's neck, held her hair and spoke in her ear during a lesson about conflict and rape.
Mr Mallinson always admitted the accusations but denied he had done anything wrong, the report said.
The panel concluded there was no sexual motivation but it was concerned about his failure to acknowledge he behaved inappropriately.
Paul Heathcote, from the NCTL said: "Mr Mallinson has acted in an overtly physical way with pupils on a number of occasions, allowing a distinct blurring of professional boundaries."
He was banned indefinitely but with the right to apply for it to be lifted after two years.