Borneo murder victim Neil Dalton funeral is held
Hundreds of mourners packed a Derbyshire church for the funeral of a student stabbed to death in Borneo.
Neil Dalton, 22, from Ambergate, Derbyshire, was killed with Aidan Brunger, from Kent, in Kuching in the last few days of a medical placement.
About 500 family members, friends from school and Newcastle University filled St Peter's Church, in Belper.
The Reverend Anne Stratton, speaking before the service, said there would be tears but also "love and laughter".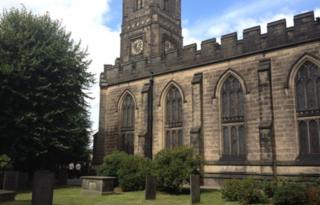 Mr Dalton's friends from Belper School and Newcastle University gave tributes while a former lecturer led the prayers.
Ms Stratton said: "He seemed to really care for people. That's one of the reasons the family think he went into medicine because he just really cared for other people.
"It just seems a sad and tragic loss for somebody who cared so much to lose his life whilst learning more about the career he loved.
"There will be love and laughter but to lose somebody you have grown up with, there will be immense grief."
---
Matt Barlow, Reporter, BBC Radio Derby
The hearse with Neil Dalton's coffin drove down a short avenue of trees in the churchyard at St Peter's Church in Belper.
Hundreds of people from many different walks of life have come to this service showing how many lives Neil touched.
They have been describing him as kind and caring as well as bright and competitive.
---
Family friend, Pam Morgan said: "He was a very caring and kind young man.
"He was very generous hearted and did a lot of work for charity."
Mr Dalton's former PE teacher, Barry Elmore, said it was "devastating" to hear how he died.
"I have fond memories of him. He was a smashing lad," he said.
"He was a well liked lad at school and a good leader. He would have made a brilliant doctor."
Derby and South Derbyshire Coroner's Court has opened and adjourned an inquest into the deaths of both men while Malaysian Police have charged a local man with their murder.
Both students have been awarded posthumous honorary degrees by their university.