RAF helicopter in Matlock Bath climber rescue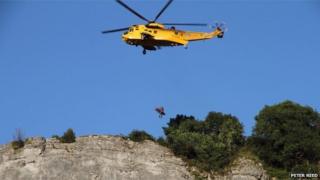 A man was rescued by a RAF helicopter after he fell 25 ft (7.6m) down a cliff-face in Derbyshire.
The 22-year-old man had been climbing High Tor in Matlock Bath when he slipped, on Saturday afternoon.
Derby Mountain Rescue said the man, who suffered leg and facial injuries, was found at the foot of the crag.
He was later put on a stretcher by a paramedic and winched up to a Sea King helicopter that had come from RAF Leconfield in East Yorkshire.
Kevin Corcoran from Derby Mountain Rescue said: "The difficulty of the path back to the road meant carrying the stretcher out would take a considerable amount of time and require rope protection at key stages.
"Therefore an RAF Sea King helicopter had been called from RAF Leconfield with the hope of being able to winch the casualty from the ground."
Derby Mountain Rescue, Derbyshire Fire and Rescue, East Midlands Ambulance Service paramedics and Derbyshire Police were all involved in the rescue.
The climber is being treated for his injuries at the Queen's Medical Centre in Nottingham.