Hippodrome city council purchase move rejected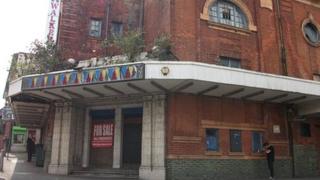 A derelict Derby theatre will not be bought by the city council, despite pleas from campaigners.
Campaigners want the authority to use compulsory purchase powers so the 100-year-old Hippodrome, which was damaged by fire in 2011, can be saved.
Pauline Latham, Conservative MP for Mid Derbyshire, said the council should intervene to preserve an important asset for the city.
The Labour-led authority said it was unlikely it would take on the project.
It had always been the council's policy it would not take out a compulsory purchase order on the grade II listed building.
'Huge costs'
However, in April, the former council leader Paul Bayliss hinted he would consider buying the theatre and then sell it to The Derby Hippodrome Restoration Trust.
There was further hope of a change of policy when Mr Bayliss was replaced by Ranjit Banwait following the local elections.
However, the authority said this was not the case.
In a statement, deputy leader Martin Rawson said: "In the current economic climate the council is unlikely to take on the cost and responsibility for maintaining the [Hippodrome] building.
"Its current condition is a consequence of the current owner's actions and the council should not be exposing itself to huge costs of remedying that action by pursuing compulsory purchase."
Ms Latham said the council should have bought the building years ago.
She said: "I think it's important that we value the heritage of Derby, we've lost a lot of it, don't let us lose anymore."
Welcome to the Hippodrome
The Hippodrome, in Green Lane, opened in 1914 with a 2,300 capacity
It became a cinema in 1930 and was last used as a theatre in 1959
The building acted as a bingo hall before closing in 2007
It was damaged during repair work in 2008 and then suffered a suspected arson attack in 2011