Sinfin waste plant construction to begin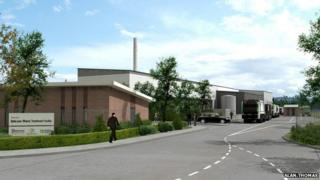 Building work on a controversial waste treatment plant in Derby is to begin.
The £150m centre, being built on the site of the former Sinfin brickworks, is expected to handle about 190 million tonnes of waste a year.
First rejected by officials in 2009, the city and county councils have now confirmed contracts have been signed.
Campaigner Simon Bacon said he accepted it would now be built but insisted he would monitor it "to within an inch of its life".
The facility, run by waste company RSS, will heat domestic refuse to release gas and this will in turn be burnt to produce energy. Residual ash would be sold to the construction industry.
---
Sinfin plant row timeline
•December 2009: Derby City Council rejects plans for the incinerator because of health and environmental fears
•November 2010: The planning inspector turns down the scheme
•July 2011: The High Court overturns this decision after an appeal by Resource Recovery Solutions
•September 2012: A second public inquiry into the incinerator gives it the go-ahead
•March 2013: Campaigners challenge the inspector's decision in the High Court but are unsuccessful
•April 2013: Plans approved by city council
•June 2014: City council agrees to pay compensation to developers
---
Opponents' concerns focussed on air quality and an increase in lorry traffic.
But supporters said it would produce enough energy for 14,000 homes from waste which would otherwise go to landfill.
Mr Bacon said while they had failed to stop the plant, the plans had been held up to close scrutiny.
"We will put pressure on the councils where we can in relation to the project and, when it is constructed, monitoring it to within an inch of its life to make sure it operates within the limits that the developers claim.
"Government inspectors can only be there so often and will only monitor for certain things."
Compensation package
Joan Dixon, the county council's cabinet member for jobs, economy and transport, said the project would save £2m a year in taxes.
"I am throwing away £80 of taxpayers' money for every ton [of waste] I send to a landfill site.
"That is unacceptable, particularly at a time when we have so little money as councils. I wish we could have done this earlier".
Originally planned to open in 2012, the plant is due to start working in April 2017.
Earlier this year the city council agreed to compensate RSS, with which both councils have a long term waste management deal, over the delays.
The exact amount has not been revealed but is reported to be hundreds of thousands of pounds.