Derby Moor teacher David Foster banned for punching and swearing at pupils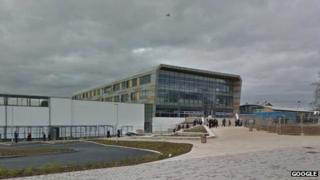 A teacher has been banned indefinitely after he swore at pupils, punched them and called them offensive names.
David Foster, a former science teacher at Derby Moor Community Sports College, admitted swearing and making sexual comments in the classroom.
He was also guilty of inappropriate physical contact with pupils and colleagues over a 10-year period.
The National College for Teaching and Leadership said his behaviour fell "short of the standards expected".
Mr Foster, aged 44, worked at the Derby college from 2002 until 2013.
A complaint made against him by a colleague in 2005 was dealt with by the college informally.
He was given a formal warning after a second complaint from a pupil's relative three years ago.
'Unprofessional conduct'
In June 2013 a number of allegations were made by pupils that Mr Foster swore in lessons, told others he "loved them to bits" and made comments of a derogatory and sexual nature.
He also punched students in the back, smacked them around the face and head and pulled their hair.
Mr Foster was dismissed and admitted the allegations to the board last month.
Following the hearing, the Secretary of State for Education banned him from teaching in England indefinitely.
He will be eligible for a review after four years.
In a report the NCTL said Mr Foster had breached teaching standards several times.
They said: "The panel considers that... Mr Foster has failed to demonstrate consistently high standards of personal and professional conduct.
"Mr Foster's language towards the children and his acts of physical conduct demonstrated that he had failed to have respect for the pupils.
"The conduct of Mr Foster fell significantly short of the standards expected of the profession."
The report said Mr Foster had failed to understand the impact his behaviour may have had on pupils and would "benefit from a period of reflection".