Two Derbyshire firefighters injured in Chelmorton road crash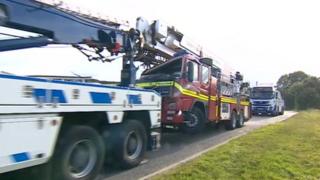 Two firefighters were injured when the fire engine they were in left the road while responding to a call in Derbyshire.
The two men were not seriously hurt when the vehicle overturned on Old Coal Pit Lane in Chelmorton at noon on Monday, a fire service spokesman said.
The firefighters. from Buxton, were on their way to a fire in Chesterfield.
No other vehicles were involved in the incident.
One fireman was airlifted to University Hospital of North Staffordshire in Stoke while the other was taken to Stepping Hill Hospital in Stockport by ambulance.
"The fire fighter taken to Stockport has been released from hospital but the other fire fighter is still in hospital in North Staffordshire for precautionary tests," a fire service spokeswoman said.
An investigation is under way, the spokesman added.