Bakewell traffic disruption as gas mains are replaced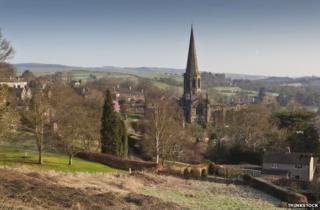 Eight weeks of disruption is expected in the market town of Bakewell while iron gas mains are replaced with safer and more reliable plastic pipes.
Parts of Bath Street, a key road in the town centre, will be closed to traffic while the work is carried out.
However, shops and businesses there will remain open.
There will also be diversions and changes to one-way systems in Bagshaw Hill, North Church Street, Buxton Road and Rutland Square.
Some properties will also "briefly" lose their gas supply, but National Grid said they will be given advance notice.
The work began on Monday, which is market day in the Derbyshire town.
National Grid authorising engineer Paul Patrick said "every effort" would be made to minimise any inconvenience caused by the work.
More than 400 metres of gas mains in the centre of Bakewell is being replaced, and this area is a priority as it is close to properties.
The new piping is more resistant to corrosion, and has a lifespan of 80 years if left undisturbed in the ground.