Royal Crown Derby workers back three-week production break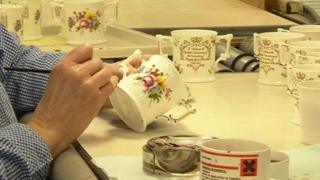 Royal Crown Derby, which makes bone china tableware and collectables, is to shut down for three weeks in a bid to safeguard jobs.
Workers have voted in favour of the plans, which will see the Osmaston Road factory in Derby close from Monday.
The firm, which employs 168 people, is also asking staff to consider voluntary redundancy.
The union Unity said it had been assured by bosses everything was being done to secure a long-term future.
Apart from a period around Prince William's marriage, the factory has operated a four day week since 2009.
Long history
Wendy Dean, of parent company Steelite, said: "We have asked if people wanted to come forward for voluntary redundancy but there will be no compulsory redundancies.
"I have to say a big thank you to the workforce for everything they have done in co-operating with this and also to Unity the union."
Harry Hockaday, from Unity, hoped the current break was "just a blip".
"Obviously when you are on short-time working, which has effectively been the case for years at Royal Crown Derby, then there is bound to be an element of worry about jobs," he said.
"But Steelite have tried to assured the workforce and they have certainly assured us that they are going to do everything they can to provide a future for our members."
The company, which dates back to 1750, has faced falling demand for formal tableware.