Spondon wind turbines tests to prevent East Midlands Airport radar interference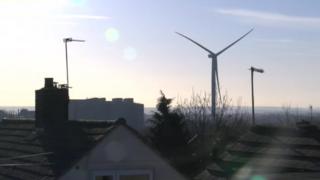 New technology is to be tested on two giant wind turbines to prevent them interfering with an airport's radar.
The 130m (426 ft) high turbines, at a sewage treatment plant in Spondon, Derby, were installed in December 2013.
However, interference problems at East Midlands Airport six miles (10km) away means they have stood idle since then.
Severn Trent Water said new radar technology was being tested to help air traffic controllers, and the turbines could soon be operational.
Renewable energy project manager at Severn Trent, Martin Dent, said it was the first time this kind of advanced technology had been used in the UK.