American Adventure site plans for 300 homes resubmitted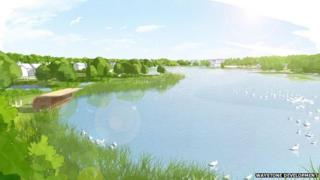 Plans to build on a disused theme park have been criticised for being the same as proposals already rejected.
Waystone Development wants to build up to 300 homes, a retirement village and leisure facilities on the site of the old American Adventure in Derbyshire.
In May the scheme was rejected by Amber Valley Borough Council for being "too vague" about types of housing.
Shipley Parish Council has said new proposals were "no different" and it would maintain its opposition.
'Airy fairy'
Nobody was available to comment from the Alfreton-based developers.
In the published planning statement, Waystone Development said it wanted to build up to 307 mostly two-storey homes, a retirement village, neighbourhood centre, hotel, business and leisure areas all focused around a 30-acre lake.
The statement said the buildings would be along a "connected network" of streets, footpaths and cycleways.
But Shipley Parish Council remains opposed to the development over complaints it would only have one access road and traffic on the A610 is already heavy.
Councillor David Wood said: "They've dropped down the number of homes from 400 to 300 but we don't really think it's any more detailed than the previous application.
"The plans are very airy fairy, if you read it. There's no definite detail."
The new proposals will be considered by Amber Valley Borough Council later this year.
The land is owned by Derbyshire County Council and, until 2007, was the American Adventure theme park.
Previously, Waystone Development said the development would be "better progressed on the basis of an outline planning application" with more detailed plans later.