Mackworth recycling scheme faces axe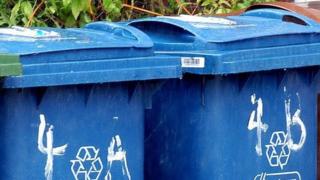 Residents in part of Derby could lose their blue recycling bins because "all sorts of waste" that cannot be recycled is being left in the containers.
Households in the Slack Lane area of Mackworth have one bin for recycling items, such as paper, and another for non-recyclable items, like food waste.
Derby City Council said it had tried to get people to separate their rubbish, but had seen "no improvement".
A consultation, due to end this week, will help decide if they are scrapped.
'Safety hazard'
The Mackworth Neighbourhood Board said it had received complaints about the mess, despite the council carrying out deep cleaning, leafleting and door knocking to educate residents on recycling.
Paul Pegg, Labour councillor for the area, said: "We've got vermin getting into the bins, tipping them over and causing mess on the street.
"It's a health and safety hazard."
Households have their blue recycling bins collected one week and their black bin, containing non-recyclable waste, the next.
Mr Pegg said if the blue bins were scrapped, the council would collect the black bins weekly instead of fortnightly.
Matthew Holmes, the Conservative deputy leader in the city, said the council was too easily dismissing people's ability to recycle properly.
Local environmental campaigner Simon Bacon said axing the scheme would punish those who have been doing it properly.