Police give stranded bridesmaids a lift to wedding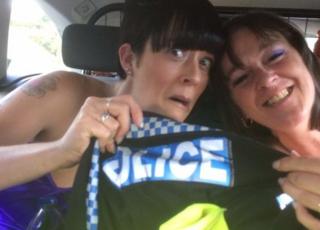 Bride Callan Fowler thought her wedding day was ruined when the car carrying her bridesmaids, mother and daughter broke down on the way to the venue.
But fortunately the car was less than a mile from police headquarters - and they were spotted by a sympathetic officer who called for backup.
The women were then whisked to the Derbyshire wedding in two police cars with blue flashing lights - much to the amusement of guests.
Mrs Fowler said she was very grateful.
"I thought 'Oh my gosh, what are people going to think?' Only at my wedding could the bridesmaids turn up with blues and twos," she said.
"At the same time I knew they were going to get there, and I knew they and my daughter were safe."
Mrs Fowler's mother, Julie Fowler, said the women were waiting on a roundabout off the A38 for about five minutes before the first police car arrived.
"We did ask if he could get us a riot van but they fitted all of us into two cars," she said.
The mother-of-the bride said they arrived at the venue on time.
"It was quite funny because everybody stood there with shocked faces until we started waving and got out of the police cars," she added.
The bridesmaids' car was meant to complete a second trip, taking the bride from her home in the village of Codnor to her wedding.
However, Mrs Fowler got a lift from her father's friend, and said she was extremely grateful to him too.
Derbyshire Constabulary said it was "delighted to be able to help".
"Hopefully their ride in the police cars added to the excitement of the day," a statement said.
Mrs Fowler, 24, met her future husband, Aron Shelton, 30, at the funeral of their mutual friend Drummer Thomas Wright, who was killed in an explosion while serving in Afghanistan.
Mr Shelton, who has changed his name to Aron Fowler, lost a leg in the same explosion.