Belper homes 'could put Unesco World Heritage status at risk'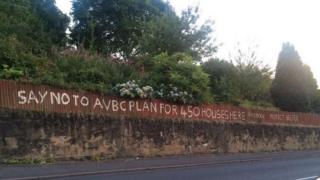 An area of Derbyshire's World Heritage status could be put at risk if proposals for 450 homes go ahead, campaigners fear.
Amber Valley council added extra homes to its local plan earlier this year, including in Belper, which is inside the Derwent Valley Mills Unesco site.
Protesters have painted a slogan on a fence against plans for a site off Kilbourne Road.
The additional sites are currently out to public consultation.
'Dangerous precedent'
In May, an extra 7,395 homes across a number of sites were added to Amber Valley's core strategy to cope with the predicted population growth of nearby Derby.
The document sets out the borough's building plans for the next 15 years.
Farmland off Kilbourne Road, which is believed to have been unchanged since medieval times, has been earmarked for two housing developments of 200 and 250 homes.
A member of the Protect Belper Facebook campaign, who did not want to be named, said: "It is going to set a dangerous precedent for the whole of the Derwent Valley. It could even lead to the loss of that status."
Kim Lowe, whose home has the words "Say no to AVBC plan for 450 houses here" daubed on the garden fence, said she did it to "alert the people of Belper".
"Beautiful fields, old hedgerows, all of that will be gone - it's quite a sizeable chunk of Belper," she said.
Amber Valley Borough Council said it could not comment until a public consultation on the additional sites ends in September.
---
Industrial heritage
An area stretching from Cromford, along the River Derwent to Darley Abbey, was granted World Heritage status by Unesco in 2001 because of its important industrial heritage.
Richard Arkwright built a water-powered spinning mill in 1771, which survives at Cromford, along with workers' housing and a number of mills down a 15-mile (24km) stretch of the valley.
The mills became the model for factories throughout the world in later centuries.
---