Peak District sinkhole-filling operation begins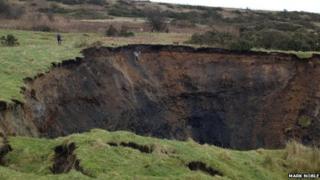 Work has started to fill in a huge sinkhole in the Peak District that is about 160ft (49m) wide.
The hole, which opened up in the village of Foolow on Christmas Eve, has become something of a local attraction.
Parish councillor Nick Williams said the hole is being filled with large boulders at the base, with smaller rocks and soil over the top.
It is thought it appeared after tunnels from an old lead mine collapsed after heavy rain.
Mr Williams, a councillor for Great Hucklow, Little Hucklow and Grindlow Parish Council, said he came across the hole on Christmas Day, while walking with his family.
He said it was bit of a shock to come across such a "huge hole" and had to convince his 14-year-old son not to get too close.
Work will continue throughout August, with a limited number of lorries taking stone to the site each day to keep disruption to a minimum.
The cost of filling the hole in is thought to be in the region of £250,000.