Derbyshire businesses to get human trafficking help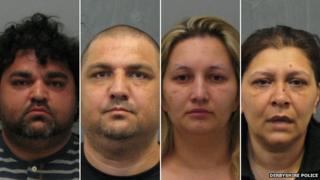 Businesses in Derbyshire are set to receive help to identify workers who may have been trafficked into the UK.
The move comes after two Slovakian couples from Derby were jailed for trafficking people for forced labour.
Derbyshire Police, working with the Gangmasters Licensing Authority (GLA) which deals with exploitation, will visit firms that might be at risk.
Paul Broadbent, chief executive at the GLA, warned the problem was on the increase across the country.
"This was highlighted recently in Derbyshire by some shocking, high-profile cases, where people have been forced into lives of modern-day slavery," he said.
'Spotting the signs'
Mr Broadbent said the authority would focus on visiting firms in Derbyshire which use large numbers of migrant workers.
"We hope to educate people in how to spot the signs of trafficking and forced labour... and what they can and should do if they suspect it is going on," he said.
Det Insp Mark Knibbs said there was a need to equip companies with information and contacts to help them to "spot and react to potential trafficking issues".
The GLA was formed in 2005 in the wake of the Morecambe Bay cockle picking disaster when 23 Chinese workers drowned.