Ashbourne Leisure Centre arson suspects bailed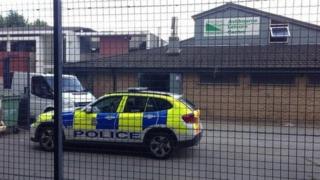 Two teenagers arrested on suspicion of setting fire to a Derbyshire leisure centre have been released on bail.
It is feared the swimming pool at Ashbourne Leisure Centre could be out of action for several weeks as a result of the blaze.
The leisure centre's plant room was damaged in the fire and other parts of the centre suffered smoke damage.
An 18-year-old man and a 16-year-old boy were released after being questioned about the arson attack.
It is believed the fire started in a bin outside the building before spreading to the roof.
Derbyshire Dales District Council, which operates the centre, said: "Contractors involved in the leisure centre upgrade will be doing an assessment of the plant room damage over the coming days."
Swimmers can still use council pools in Matlock and Bakewell.