'Fireworks to blame' for Newhall evacuation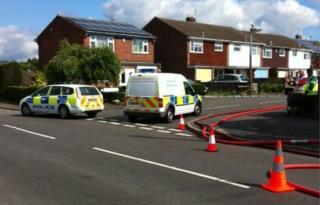 The discovery of homemade fireworks in a flat in Derbyshire caused the evacuation of 200 people from their homes, police have said.
Six controlled explosions were carried out at the property in Newhall, near Swadlincote, after police found "potentially volatile" substances.
Police lifted the cordon at about 14:15 BST so that people who were living within 100 yards of Belvoir Crescent could return home.
A 55-year-old man has been arrested.
Police said they were not looking for anyone else in connection with the incident.
Supt Paul Callum from Derbyshire Police said it appeared the flat was being used to make fireworks.
"The police attended and it became fairly obvious at an early stage that there was some concern there were some explosives in the address."
He said an Army bomb disposal team had now removed the items from the home.
Resident Les Wood said he heard four explosions early on Sunday before he was told to leave his home.