Protests outside Derbyshire County Council meeting over cuts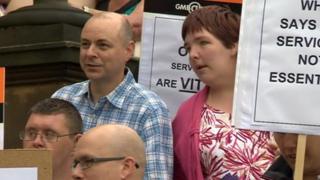 Protests took place outside a meeting where Derbyshire county councillors were discussing how to implement proposed savings.
Dozens of vocal demonstrators gathered at County Hall, Matlock, and were later invited in to voice their concerns.
The head of a local charity affected by the plans said she still expected the cuts to go ahead.
The Labour-led authority said it had to save money because of cuts in government grants.
'Bleak day'
The funding cuts affect areas including school crossing patrols, libraries and road maintenance, and have been described as the "toughest" in the council's history.
Edwina Edwards, head of Bakewell Eyam Community Transport (Bect), which provides transport for people with disabilities, said: "There was nothing entirely that was reassuring.
"I think they will be going ahead with these cuts. It's a bleak day, I'm afraid."
The council met to consider the latest £70m of proposed savings, which are part of a £157m reduction. The council said it had found extra money for services which prevented people from becoming homeless.
The potential budget reductions include:
Cutting the budget for Direct Care - the service provided by social care workers to people in residential homes, day care and their own homes - by 25%
Closing up to 23 children's centres
Ending the concessionary travel and discount scheme for young people aged 11-19
Removing school crossing patrols unless alternative ways of funding individual sites can be found
Gritting fewer roads and less money for maintaining them
Cutting grants to voluntary and community groups
Reducing staffing and opening hours for libraries, with less money for books
Cutting the budget for countryside services by a third
The cuts are set out in the council's provisional five-year plan.
Speaking after the meeting, leader of the council Anne Western said: "People need to understand the constraints that we have to work within.
"I hope they have managed to take away the work we are doing to limit the pain that's being caused by the cuts."
The Conservative opposition has previously said it fears the current administration is not maintaining momentum in efficiency savings.