Stonebroom School fire accidental, say investigators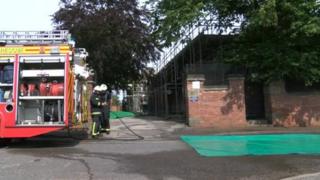 An investigation into the cause of a fire at a Derbyshire primary school has found it was accidental.
The fire broke out in the roof of Stonebroom Primary School, near Alfreton, on Thursday afternoon.
Four classrooms and offices were damaged in the blaze and all pupils and and staff were evacuated. No-one was hurt.
County councillor Kevin Gillott said the school had now been "deemed safe" and would reopen on Monday.
Workmen had been on the school site at the time of the fire.
The county council said an investigation had concluded the fire was accidental and work being done on the building was the cause.
The fire destroyed the roof of one classroom and left several others with smoke and water damage.
Councillor Gillott, cabinet member for children and young people at Derbyshire County Council, said it had been a concerning time but people were relieved the school could reopen.
He said: "Neither me or the head teacher would have allowed the children back in if we didn't think it was safe.
"I can give that assurance."
The actions of children, staff and the workmen who were evacuated were all praised by the county council.
The fire was dealt with by reserve fire crews while regular firefighters were taking part in public service union strikes.
Their efforts in preventing the fire spreading were also praised.
The school has about 130 pupils.