Derby Police Museum opens again after 10 years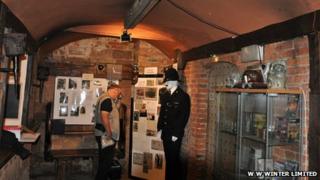 A city's police museum has reopened to the public after it was closed 10 years ago due to budget cuts.
Derby's new museum dedicated to police memorabilia from Derbyshire opens at a new site inside Derby Gaol on Saturday.
Items on display include truncheons, uniforms and handcuffs dating from the 1830s to the modern day.
Richard Felix, who campaigned to reopen the museum, said a group of volunteers had spent almost three years researching and collecting new items.
"We used to have a police museum 10 years ago in St Mary's Gate in Derby and everyone loved it," said Mr Felix.
"It has been sitting in stores since then and I have been campaigning for the last 10 years to get it back opened again."
Equipment changes
After its closure, many items from the original museum were taken to Buxton where they remain on display.
Volunteers have visited car boot sales, auctions and appealed for people in Derbyshire to donate their memorabilia for the latest collection.
Other items on show include photos, mug shots and fingerprint kits from different eras.
One of those to return is a badge collection, which is said to be one of the biggest in Britain.
It had been donated to the old museum by a couple who had visited Derby's Ghost Walk. The collection had belonged to their son-in-law.
Anthony Logwell, whose grandfather was a police officer, said: "It is unbelievable how the equipment has changed over the years and that's what people like to see.
"Every piece, from the Victorian truncheon to the more modern helmet, has a back story about the person who used it."
The museum will be open every Saturday and Sunday from 11:00 to 15:00.