Heteny Tarsoly jailed for life over Derby crowbar murder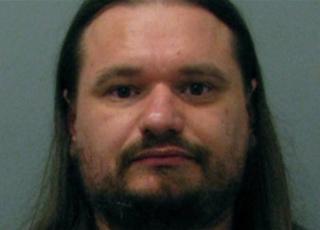 A man who used a crowbar to "stove in" the skull of a bus driver who was having an affair with his wife has been jailed for life.
Heteny Tarsoly, 38, has been told he must serve a minimum of 23 years, for murdering David Hunter, 54, in the street outside his Derby home.
A jury rejected Tarsoly's claim he lost control when Mr Hunter told him he had lost his wife and children.
His body was found by Tarsoly's wife in Breadsall Hilltop in January.
'No justification'
Tarsoly, a chef, wore an extra layer of clothing, a hat, gloves and scarf to conceal his face in preparation for the attack, Derby Crown Court heard.
CCTV footage of him buying two rolls of strong bin liners from a supermarket on the night of the murder was shown to the court.
He parked out of sight and waited for Mr Hunter for more than an hour.
Judge John Burgess said: "When he arrived home from work, you hit him with the crow bar at least 10 times to the head.
"You stove in his skull and he died from head injuries."
He said that Tarsoly's "genuine anguish" at the breakdown of his marriage was a "mitigating feature".
"She [Timea Tarsoly] had lied to you. I accept that you were in a state of anguish. You were devoted to your children and you were deeply concerned that as a result of a divorce you would lose your relationship with them.
"This was what prompted you to act as you, did but it was no justification for the murder you committed."
The Hungarian national is likely to be deported on release, he added.
Det Ch Insp Phil Cox, of East Midlands Major Crime Unit, said two families had been "destroyed" by Tarsoly's actions.
Mr Hunter's sister Leonie Hunter said she felt "justice had been served".