Keith Williams release: Government sympathy for victim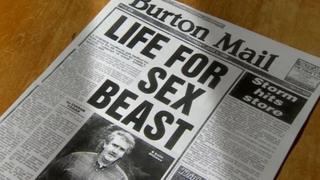 The government has expressed its sympathy to a woman raped over several years by a convicted paedophile who has since been released on licence.
Keith Williams, 56, from Swadlincote, was given five life sentences in 1999 for attacking the victim in the late 1970s and early 1980s.
Prisons minister Jeremy Wright said the decision could not be reversed.
The woman, first attacked aged eight, said those who freed him would "bear the responsibility when he reoffends".
'Maximum reassurance'
Heather Wheeler, Conservative MP for South Derbyshire, expressed concern in the House of Commons over the way the decision to release Keith Williams had been made.
She said: "Can the minister tell me why that during his first Parole Board hearing Keith Williams was denied parole and at his second hearing, armed with the same facts, he was given it?
"Is it not worrying that two different groups of people can come to completely polar opposite outcomes?"
Mr Wright said: "My sympathy goes out to the victim of Keith Williams. But the second time the matter was considered... the board received different information, including a psychological report they'd not seen before."
The Ministry of Justice said a "robust risk-management plan" would be put in place, including an exclusion zone of about 20 miles around the area where the woman lives.