Royal Lancers homecoming parade through Derby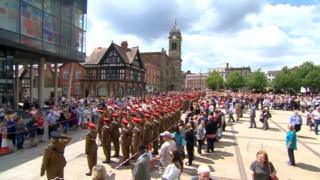 Thousands of people have lined the streets of Derby city centre to welcome home hundreds of soldiers from Afghanistan.
The parade by the 9th/12th Royal Lancers started at Derby Cathedral at 11:30 BST and followed a march through Leicester on Sunday.
It was the regiment's last parade in the city as it is due to merge with the Queen's Royal Lancers next year.
One soldier shocked his girlfriend by proposing to her during the ceremony.
Lance Cpl Wayne Hutchinson got down on one knee in front of hundreds of onlookers in the Market Place
"I was a bit nervous, I was dropping my lance, forgetting everything I had been told.
"When we stopped and we got fallen out by the parade Sergeant Major, I got the ring off my mum and then I proposed," he said.
Taliban weapons
To his relief, fiancé Katy Blood said "yes".
"I was a bit shocked," she said.
The soldiers have spent the past eight months in Helmand Province, where some were part of an operation to find Taliban weapons behind enemy lines.
The homecoming parade, featuring soldiers armed with traditional lances which were used during World War One, travelled along Iron Gate, Sadler Gate and The Strand, before finishing at the Market Place.
There was a salute on the Corn Market at 12:25.
There will be a march through Chesterfield town centre on Thursday.