Derby Pride Park travellers leave site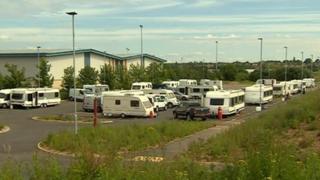 A group of travellers encamped on a Derby car park near Pride Park have started to move on after legal proceedings started.
About 40 caravans and other vehicles moved on to the site last weekend.
But following the issuing of a court order by the city council, the travellers started moving out on Saturday afternoon.
The authority said without co-operation it could have taken up to three weeks to evict them.
The car park lies between Derby County Football Club's iPro stadium and the new £28m velodrome, which is due to open next year.