John Port School to axe up to 15 jobs to save £700,000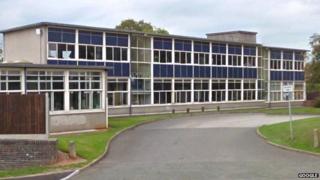 Staff jobs could be cut at one of the largest secondary schools in Derbyshire in a bid to save £700,000 a year.
The head teacher of John Port School, in Etwall, hopes cutting 15 of about 245 jobs by August 2015 would "secure the sustainability" of the academy.
Chris Sainsbury said the school was overstaffed and jobs was one of the areas he was proposing to scale down.
The National Union of Teachers (NUT) in Derbyshire said the quality of the children's education could be at risk.
'Act immediately'
Mr Sainsbury said he intended to reorganise staffing levels, but he now needed to "act immediately" as the academy has a reduced budget from September.
"We would like to avoid compulsory redundancies... the school would consider any requests for voluntary redundancy," he said.
"Ideally, I would have implemented this plan over a longer period of time, but now I have next year's budget information, it is apparent that we have to act immediately."
Mr Sainsbury added that the teachers were being consulted and the jobs would be axed if the school governor's approved the proposals.
School business manager Graham Golding said its budget for staffing should be between 75% and 80%, but it was currently 89%.
"If we can reduce staff costs to below 80%, we could sustain the school and staff for the future," he said.
John Port School teaches children aged from 11 to 18 and has about 2,000 students attending each year.
Deborah Turner, from the Derbyshire NUT, said: "It's not just about the individual teachers, it's the impact of those losses on the children.
"Even if there are no compulsory redundancies, posts may be lost and that impacts on the type of education the children are given.
"It could also narrow the curriculum and might increase pupil numbers in the classroom."