Man summonsed over child left in car in Clay Cross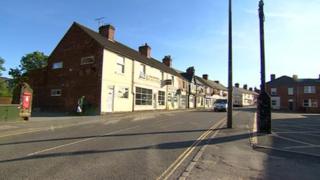 A 46-year-old man has been reported for summons for cruelty and neglect of a child after a toddler was rescued from a locked car in Derbyshire.
An officer broke the window of the car, parked on Market Street in Clay Cross and took the 18-month-old girl into a nearby community centre on Friday.
Derbyshire Police said the child was distressed and taken to Chesterfield Royal Hospital as a precaution.
The man is expected to be charged when he appears before magistrates.
The toddler was released from hospital "with no issues" and was in the care of a relative.
A police spokeswoman added that social services were involved.