Bakewell noise row play area opening limit questioned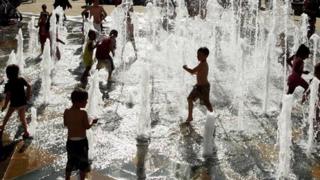 A cut in the hours of a children's water play area, after one complaint about noise, is to be reviewed.
The Splashpads area of the Bakewell Recreation Ground used to be open seven days a week but this has been reduced to four.
Families have complained it is unfair to expect playing children to be quiet but residents said they were being forced indoors by the noise.
Derbyshire Dales District Council said it will debate the situation in July.
A paddling pool was replaced by the Splashpads - a series of water jets - four years ago.
'Let down'
But one householder whose garden backs on to the area recently called in environmental health officers, with the result the jets have been switched off from Tuesday to Thursday.
Families from as far afield as Sheffield, 20 miles away, said a valuable facility was being wasted.
Pauline Wooley, who takes her daughter to the play area, said: "We have come twice now and (the jets) have not been working and there have been no signs to explain it.
"We feel let down and disappointed. Weekdays are a good time to come because it is only smaller children and it feels safer and more relaxed."
Limits breached
Nearby resident Bill Storey said he did not make the complaint but could understand why the person did.
"It's not the children playing but the high-pitched squeals when they are hit by these cold water jets.
"The other day I was cutting my grass and I couldn't hear the lawnmower over the noise of the squealing.
"The park is brilliant but the council missed an opportunity to move this area further away when they changed it from the paddling pool," he added.
The council said they were forced to act when officers found the noise breached statutory limits.
In a statement, it said: "To give local residents some respite ahead of the school summer holidays - when it is planned that the splash pads will be available seven days a week - the district council is currently restricting operating times to Fridays, Saturdays, Sundays and Mondays from 12:00 to 17:00.
"We are also investigating ways to reduce the pump noise and the velocity of the water jets.
"All feedback will be reported to councillors for further consideration at a meeting early in July."