Derbyshire County Council agrees cuts to adult social care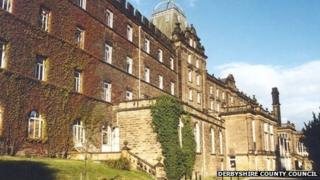 A council that is cutting funding to adult social care is "complicit in murder" and could face a legal challenge, campaigners said.
Derbyshire County Council has to shave £11m this year from the £206m it spends on services to older, vulnerable and people with disabilities.
It includes changing who is eligible for care, increasing contributions and charging for transport.
Campaigners said they are looking into the possibility of a judicial review.
The Labour-led council's cabinet approved the plans at a meeting on Tuesday, blaming the reduced grant from government.
Disability campaigners, who said councillors refused to look them in the eye, claimed a small victory when the council opted to investigate if reserves could be used to delay some of the changes.
'More accidents'
The changes will include:
Raising the threshold for who can receive care, meaning only people who have "substantial needs" will be eligible
Increasing the financial contribution made towards care and support, including users with more than £50,000 capital paying 100%
Introducing a £5 daily fee for transport to day care and other activities
Councillor Clare Neill, cabinet member for adult social care, said: "For adult social care, my share of [the cuts] is £65m over three to four years.
"This year, I've got to cut £11m from my budget - clearly I can only spend the money I've got."
Poverty line
But campaigners said it disproportionately affected people with disabilities and that the consultation was flawed, which they said potentially gave them grounds for a judicial review.
Gary Matthews, Derbyshire representative of Disabled People Against Cuts, said: "The council's own report says people will be unsafe at home, there will be more accidents at home because of a lack of care and people's health will deteriorate.
"This will put an extra stress on the NHS. Some people believe the council is complicit in murder."
He added that the introduction of charges will force many disabled people in to poverty.
Campaigners have 12 weeks to apply for a judicial review.