Soil mound move at Ripley site delayed due to newt risk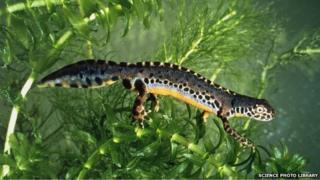 A house builder claims it cannot move a "mini mountain" of soil near to one of its developments because there may be newts on the site.
Soil was deposited at the site in Ripley temporarily, but has been there so long it has become a wildlife habitat.
Some residents in Cromford View have demanded the "eyesore" is moved.
There are four manmade mounds at the site in Derbyshire, with the amount of soil estimated at 10,000 tonnes.
Chris Goodwin, from Cromford View Residents' Association, said it is dangerous because children could climb up and fall.
"It could collapse under the weight of a child and potentially there could be a burial," he said.
"There are four mounds but one is much bigger than the rest. I would say it's a mini mountain."
Mr Goodwin said the mounds had increased in size since soil started to be transferred in 2008.
"The biggest mound is as high as a two-storey building and as long as a football pitch," he said.
Morris Homes said the soil had been deposited so it could be used for an adjacent housing development.
A statement from the developer said: "There is the possibility there may be newts in the area and as such we are unable to disturb any soil until the ecologists have confirmed that newts are not present on site.
"We are expecting our ecologists to complete the necessary investigations and survey within the coming weeks.
"We are also looking at options for the removal of the soil until the new site is under development."