Kilburn murder: Victim killed 'because he was a traveller'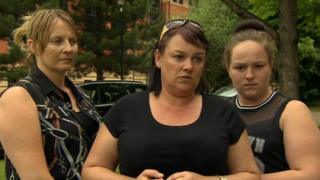 The ex-wife of a man who was beaten with a fence post and his body set alight, has claimed he was killed because he was a traveller.
Vincent Aitken, 44, Emma Aitken, 19 and Nathan Doherty, 27, were jailed on Friday for a total of 52 years for the murder of Barry Smith in Kilburn, Derbyshire, in October last year.
Dawn Smith has criticised the sentence as "a joke".
She paid tribute to Mr Smith, who she said was "a lovely person".
"He would never, ever hurt anybody," she said. "You can't really put into words what he was."
'Isn't justice'
During the trial, Leicester Crown Court heard the attack was revenge for Vincent Aitken's wife Pamela resigning from the Kilburn Welfare Social club after a row with Mr Smith, during which she allegedly called him a "pikey".
"We never thought anyone could do anything like this to him because of the person he is," said Mrs Smith.
"They've done it because of what he was, because he was a traveller, a Gypsy. That is why Barry was murdered, this is what we believe."
After the trial Det Insp Lisa Macintyre who led Derbyshire Police's investigation, called the attack "savage" and "utterly barbaric".
Aitken, of Chapel Street, Kilburn, was given 22 years, his daughter Emma and her partner Doherty, of Portland Street, Derby, got 12 years and 18 years respectively.
Pamela Aitken was cleared of assisting an offender.
"It definitely isn't justice," said Mrs Smith.
"People have got longer for burglary. Them people have took a life - they've took a father and took a grandfather."
She said children Jo, 22, Barry John, 20, Luke, 19 and Nathan, 16, have found things hard since their father's death.
"Barry John, I don't think he's accepting it - he says to me, 'My dad will walk round that corner in a minute'."