Kilburn murder: Father, daughter and boyfriend get life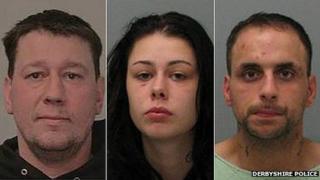 A father, his daughter and her boyfriend have been jailed for life over the murder of a man in Derbyshire.
Barry Smith's beaten and burnt body was discovered outside Kilburn Welfare Social Club in October last year.
Vincent Aitken, 44, Emma Aitken, 19 and Nathan Doherty, 27, were given minimum terms of 22, 12 and 18 years respectively at Leicester Crown Court.
Jurors heard the attack was revenge for Vincent Aitken's wife resigning from the club after a row with Mr Smith.
Vincent Aitken, of Chapel Street, Kilburn, and Emma Aitken and Doherty, both of Portland Street, Derby, denied the charges.
Pamela Aitken, 41, was found not guilty of assisting an offender.
Det Insp Lisa Macintyre, who led the investigation, said: "Barry Smith was a family man who was popular and was well liked and respected in the community of Kilburn.
"He was subjected to a prolonged, savage attack and it is incomprehensible to me that three people could do this to another human being.
"It was an utterly barbaric act and one that Mr Smith's family have found hard to come to terms with".