Derby's Assembly Rooms could be rebuilt, says leader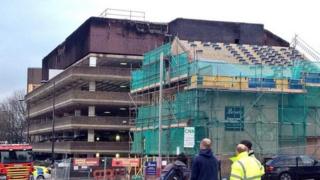 Derby City Council leader has said he would like to see the city's Assembly Rooms demolished and rebuilt, if it can be afforded.
A fire badly damaged the car park in March and also affected the entertainment venue itself.
New council leader Ranjit Banwait said something like the Symphony Hall in Birmingham could be built in its place.
His Labour colleagues said it was only one view and other options would be considered.
'Major lift'
Martin Repton, the authority's cabinet member of leisure and cultural services, said: "I think there really are mixed views of what is preferable within my group and within the whole of the city.
"We all want what's best for the city and we'll know that when we've looked into every single option, costed everything, and then we'll come to a decision."
Ranjit Banwait, who replaced Paul Bayliss as leader of Derby City Council following the local elections, told BBC Radio Derby: "I would love nothing else for Derby than to have its own Symphony Hall.
"If you've ever been to Birmingham to see the Symphony Hall, it's a beautiful building.
"Whether we can afford it I just don't know; we are absolutely in very difficult times at the moment."
Peter Helps, a former Birmingham councillor who was behind the Symphony Hall development, said: "[You have to] look at it from the point of view of an investment and what it did for Birmingham... it was a major lift.
"I wouldn't claim to know Derby intimately but what is the cultural offering? If it's not what it could be then this could be a great thing."