'Incredible population' of crayfish near roundabout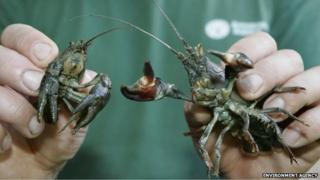 A major roadworks scheme is being further delayed because of the discovery of an "incredible population" of rare native crayfish.
White-clawed crayfish are usually found in isolated streams in Britain, but hundreds have been found in a brook near a busy roundabout in Derbyshire.
The Highways Agency said 120 crayfish were initially found near the Little Eaton Island, and then relocated.
A further 100 have now been found during dredging of the brook.
Dredging has not yet finished, meaning more could be found.
Trevor Taylor, from Derbyshire Wildlife Trust, said: "That is an incredible population.
"I was involved in de-siltation works on the Markeaton Brook. You were only talking about handfuls of crayfish, which again was considered to be a decent population.
"Now you are finding hundreds or so, that is a significant population."
White-clawed crayfish are Britain's only native freshwater crayfish, and are under threat from American signal crayfish.
Signal crayfish were introduced to Europe for food, because crayfish fisheries there were being damaged by crayfish plague.
However, the American crayfish turned out to be a carrier of the disease, and spread it to native crayfish when they escaped from farms.
While searching for white-clawed crayfish in Bill Oddie Goes Wild, the conservationist said: "Genuine British crayfish are very rare, unfortunately, nowadays.
"Sadly the foreign crayfish brought in the plague, they were all right, but these little chaps [white-clawed crayfish] suffer from it dreadfully, and so it's only up in these isolated areas where the water is absolutely clear, and there are no nasty foreigners, that they still survive."
The £2.7m roadworks scheme was due to be completed this month, and involves increasing the number of lanes and installing traffic lights at two roundabouts at the junction for the A38 in Little Eaton and Markeaton.