Kilburn murder: Accused 'moved' Barry Smith's body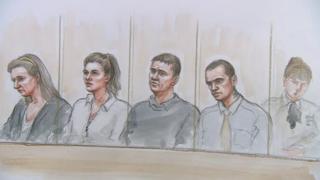 A man accused of murder has said he helped his daughter's boyfriend move the victim's body.
Barry Smith, 48, was killed in a revenge attack after a woman was sacked for making a racist remark towards him, Leicester Crown Court heard.
Vincent Aitken, 44, his daughter Emma Aitken, 18, and her partner Nathan Doherty, 27, deny Mr Smith's murder.
He was beaten to death and his body was later set alight, the court was told.
Mr Aitken, of Chapel Street, Kilburn, told the jury he heard his daughter Emma screaming outside Kilburn Welfare Social Club and found Mr Doherty standing over the victim's body.
He said he helped Mr Doherty drag the body to a field and brought buckets of water to clean up the blood outside the club.
He told the court he did not ask Mr Doherty or his daughter what had happened and denied knowing how Mr Smith died.
Mr Aitken also claimed he did not know who set fire to the body or how Mr Smith's phone and lighter came to be found in his pocket later that day.
The prosecution claim the attack was in revenge following a row between Mr Aiken's wife Pamela, 41, who lost her job at the club after making an alleged racist remark towards Mr Smith. She has denied assisting an offender.
Earlier in the trial, Mr Aitken was accused by Mr Doherty of beating the victim with a pool cue and fence post.
The trial continues.