Wirksworth railway station reconnected to national network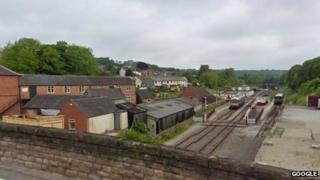 A town railway station has been reconnected to the national network for the first time in almost 70 years.
Wirksworth Station, in Derbyshire, was closed to passengers in 1947 and to freight in the 1980s.
Heritage group Ecclesbourne Valley Railway reopened the station and started a passenger service between Ravenstor and Duffield.
Passengers can now buy a ticket and travel to Wirksworth from any mainline station in the UK.
Tom Wait from the heritage group said he hoped more people would use the station.
Overgrown line
"Now someone anywhere at all in the UK can go on to the national railway planner and put Wirksworth as a destination and our timetable comes up," he said.
The branch line to the town was opened in 1867 but faced competition from buses in the 1940s.
In 1947 passenger services were suspended and never resumed while freight ran on the route infrequently until the late 1980s.
Volunteers from the Ecclesbourne Valley Railway heritage group worked to restore the overgrown line and passenger services restarted in 2011.