Labour wrest control of Amber Valley Borough Council from Tories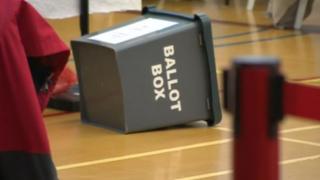 Labour has won control of Amber Valley borough council in Derbyshire after 14 years of Conservative leadership, by winning two seats from the Tories.
Labour won Ripley ward and Belper South Ward to take control of the council with 23 councillors overall to 21 for the Conservatives.
No other parties won seats in the local election.
Labour leader Paul Jones led the singing of The Red Flag after the results were announced.
He said he was "absolutely delighted" with the win.
UKIP ran candidates in all seats in the Amber Valley Borough Council election, but failed to win any of them.
The BNP ran in two wards, but also failed to win seats.