Derbyshire Wildlife Trust vaccinates badgers as alternative to culling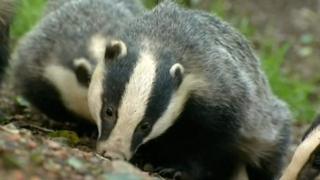 Derbyshire Wildlife Trust has begun a programme to vaccinate badgers in the county as an alternative to culling.
The trust is treating badgers on its nature reserves to tackle the spread of Bovine TB.
It is part of a five-year programme aimed at convincing the government to fund alternatives to culling.
The Department for Environment Food and Rural Affairs (Defra), said other control methods were still needed.
Trust conservation manager Tim Birch said vaccinating badgers was a more effective way of preventing the spread of the disease.
He added that he was "deeply disturbed" that the government was also carrying out gassing trials, which he described as "inhumane".
Defra carried out pilot culls in Gloucestershire and West Somerset last year to try to halt the spread of the disease.
An independent scientific assessment concluded they were not effective.
Analysis commissioned by the government found the number of badgers killed fell well short of the target deemed necessary.
And up to 18% of culled badgers took longer than five minutes to die.
However, Defra said culling in areas where the disease was widespread did reduce cases of TB in cattle.
The department said it supported vaccination programmes, but added that the vaccine would not work on badgers already infected with the disease.
Derbyshire County Council is also backing the county's wildlife trust.
It said it was opposed to badger culling and is calling on the government to introduce a nationwide badger vaccination programme.
Derbyshire Wildlife Trust raised £50,000 to start the programme, which it hopes to expand in the future.