Breaking the cycle: Jobseekers find success with free bike scheme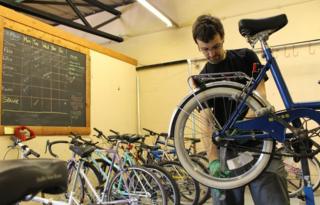 Jobseekers in Derby have been given free bikes to help them find work. But does getting in the saddle help you find a job?
A handful of people on jobseekers' allowance in the city signed up for the free bikes scheme, funded by government grant money, earlier this year.
In what is believed to be the first scheme of its kind in the UK, the bikes, which are refurbished by prisoners in Leicestershire, are also given out with a set of lights and a lock.
But does the promise of the two-wheel travel actually help people find jobs - and if so, how?
Father-of-two Chris Sims had been jobless for eight months when he picked up his bike in May.
The 27-year-old said he had become "stuck in a rut".
He said he had found unemployment "boring more than anything".
"I don't like not being able to do anything," he added.
He was given a four-week job trial at Poundland in Derby and used the bike to travel from his home in Sinfin, four miles away.
He has since secured a permanent job at the discount store.
"It did help me get there every single day," he says.
"It would have been difficult to find the money before I got the bike."
'Graduated release'
The jobseekers taking part in the project picked up their wheels from Bike Back in Derby.
Previously, the group only helped employed people on low incomes, who wanted to use alternative ways to get to work but did not have the means to.
Volunteers there take in about 280 donated bikes a year and then send them away to be refurbished by prisoners at HMP Stocken, who in turn can earn a City and Guilds qualification.
"It's a Category C prison where they're serving 12 months to three years, which gives them enough time to complete the course," says Jon Hughes from Bike Back.
"When they come out on release we take some of them to bike events at businesses and universities. It gives them a graduated release and a bit of experience."
At least one prisoner has since been snapped up by a major cycle retailer on release, he said.
Al Ditheridge from cycling charity Sustrans has been employed by Derby City Council to oversee the scheme.
He said: "Back in April 2013 I started to work with jobseekers, encouraging people to use bikes more.
"I asked people, 'would it be good if you had a bike to get to work?'"
He said the project filled a "gap in the market".
"There's funding for people in a job to get help with transport costs, but nothing to help jobseekers," says Mr Ditheridge.
"They are the ones that need the transport to get about."
There is currently £5,000 of funding to pay for 50 jobseekers' bikes but he said he was "hopeful" more money will be found to extend the scheme.
The trial has been funded by the city council's Connected initiative, aimed at encouraging alternatives to cars, which is in turn partly funded by the Department for Transport.
Dan Pickard, 26, gave up work after his son was born with a heart condition.
"My old job wasn't working with me, they weren't giving me the time off that I needed," he says.
"It has been hard. Employers aren't willing to give you a look."
Transport had been a "big issue", he added.
"I don't drive and some jobs that have come up can be 10 miles away from Derby, or more."
Josh Bathe, 25, was effectively homeless when he picked up his bike - he had been sleeping on a friend's sofa.
He had not worked since October when he left his job in a call centre.
He later found accommodation in a YMCA hostel and has been using his custom frame bike from Bike Back to get to interviews for warehouse and retail positions but has so far been unsuccessful.
"It's good for people, it encourages people to enjoy getting around," he said.
"It gives you something to do - you can go out if you're bored."
'Really worthwhile'
Toni Shore, 25, is trying to set up her own photography business.
"I've been doing work experience at a photography shop. I live about 20 minutes bus ride out," she said when she picked up her bike.
Although a Jobcentre Plus travel discount card is available to help with travel costs, finding the money every week was a struggle, she added.
"It's hard sometimes - I want to get to work experience, I want to get to interviews - but how am I going to get anywhere?"
Since picking up her bike, she has found work, she said, and added her business plans were "coming along nicely".
"The bike's been a real help getting about and I actually enjoy it," she says.
"It's a really worthwhile project and has helped me out a great deal."