Plane crash victims Carl and Kathryn Whiteley 'disoriented' by fog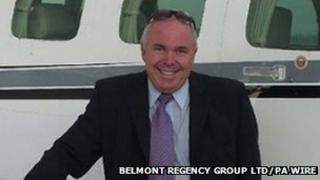 A husband and wife who were killed in a plane crash near Jersey last year may have become disoriented in fog, an accident report has found.
Carl and Kathryn Whiteley crashed into the sea about six miles from the island's airport on 4 September.
The couple, of West Hallam, Derbyshire, were believed to have been returning from holiday in France.
The Cessna Crusader could have stalled, the Air Accidents Investigation Branch report said.
'Below radar coverage'
"The accident was probably as a result of the pilot's attempt to recover to normal flight, following a stall or significant loss of airspeed at a low height after a rapid climb manoeuvre, having become disoriented in the approach [to Jersey airport] in fog," it concluded.
It said Mr Whiteley had transmitted to the Jersey control tower: "Erm, sorry can you give me the frequen.... Sorry I've done... completely gone wrong way round there just eh... One moment."
The plane then turned 180 degrees and entered a "rapid climb" to 600ft (183m) at about 45mph (72km/h), before descending at a similar speed "to below the coverage of the radar".
The search for the plane involved 20 vessels and three aircraft.
Mr Whiteley, 56, who was piloting, was a founder director at Derby-based finance firm Belmont Regency Group. Mrs Whitley, 55, was the only passenger.