Derbyshire County Council consults on closure of up to seven children's centres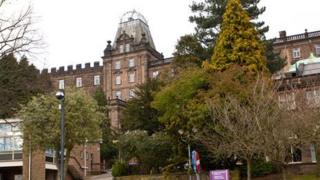 Up to seven children's centres in Derbyshire could close after the county council approved a public consultation into their future.
The Labour-run authority said it needed to save more than £1m from its budget for the centres because of government cuts.
Councillor Kevin Gillott said closing some of the county's centres was the most "realistic" outcome.
The Conservatives said rural areas would suffer the most from closures.
'Plug the gaps'
Derbyshire County Council has to make a saving of £157m, including £1.1m from its £8m children's services budget, over the next five years.
Mr Gillott said: "We have to be realistic, if we can't find money in other ways it might be the only alternative left open to us."
He added that voluntary groups could be asked to "plug the gaps" in funding to keep some of the centres open.
But he said the remaining funding would go to the most deprived areas of Derbyshire.
Barry Lewis, the Conservative member for children's services, said he feared a drain of services towards the more urban north east of the county, where there are a number of Labour seats.
"One of the good things that children's centres do, particularly the rural ones, is a strong element of outreach work - working with farming families, particularly isolated ones that don't really have contact with people," he said.
The council has not said which centres might be at risk.
Two consultation periods, one starting on May 12 and one starting in October, were approved at a cabinet meeting on Tuesday.